How to Make Halloween Lanterns
Originally posted 2012-10-23 08:00:53.
Last week, my cousin posted a picture on Facebook of Halloween lanterns made by her girls. I thought they were really cute and asked them to send the instructions to me so I could share them.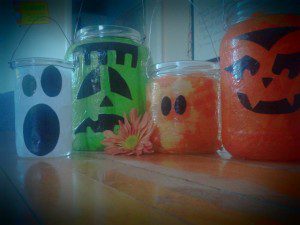 This also gave me the opportunity to interview them and ask them about their craftiness… We are part of a very creative family. There are teachers, computer geniuses, musicians, photographers, and a whole host of gifted people in our clan.
So I am proud to introduce my little cousins – Noelle and Evelynn (also known as "No-No" and "Evvie") to present their Halloween Lantern project!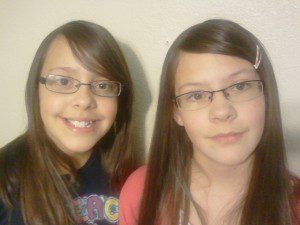 But first, the interview…
How long have you been crafting?
Noelle:  I've been crafting for as long as I can remember. I've done my crafts at home, school, and Sunday school.
Evelynn: Well, I remember making crafts at all ages, with finger painting, clay art, earrings and so on.
What is the first craft you have made that you can remember?
Noelle: The first craft I made that I can remember was before I started school. Mommy, Evelynn, and I were making Valentine's Day cards for Daddy. We used construction paper and tissue paper.
Evelynn: The first craft that I remember making was when I was in kindergarten and I had made a Christmas card with my grandma, for my mom and dad. We used green construction paper and puffy stickers.
Where do you get your ideas?
Noelle:  I get my ideas and inspiration from everywhere. Some ideas come from pictures in books and magazines, or on the Internet, and others I think of on my own. For instance, I collected some weeping willow branches from my back yard. I noticed how they moved like bird's wings and decided to try and make a large bird kite. I haven't actually tried it yet, but I might try it, maybe, after the bugs go off of the tree.
Evelynn: I get my ideas from lots of places: Pinterest, magazines, advertisements, books, and sometimes I come up with my own ideas.
Do you have favorite things you like to make?
Noelle: Yes, I mostly prefer leather crafts, such as leather pouches, moccasins, and necklaces. I also like to sew clothes for my dolls.
Evelynn:  Yes! My most favorite crafts to make are earrings. I make bead earrings using glass, plastic, and metal beads, too.
Do you have a favorite craft store you like to shop at?
Noelle:  Yes, Hobby Lobby is my favorite craft store to shop at. Hobby Lobby has an uber wide selection of crafts, as well as everything I need to make my projects.
Evelynn: Yes, I love shopping at Hobby Lobby. They have almost everything I need. They have a ton of craft material.
They are girls after my own heart! I L.O.V.E. Hobby Lobby and shop there weekly! Awesome! Now on to their project…
Instructions for Glass Halloween Lanterns
Materials you will need:
Glass jars; we used two pickle jars, one relish, and one "pimento spread" jar. You can use plastic jars if you want to. We personally have not tried this, so we don't know how well it would work.
Orange, yellow, green, and white tissue paper left over from birthday presents, torn into small quarter size pieces.
Mod Podge®
Paint brushes
Metal wire; we used the 20 gauge metal wire that Evelynn uses to wrap her beaded earrings with.
Face template
First, we cleaned the jars with warm soap and water and scrubbed the labels with a sponge. Some of the labels were stubborn, so we let them soak in hot water for a short while and scrubbed again.
Place a piece of tissue paper on the jar and using a paint brush, spread a thin layer of Mod Podge® over the paper until it is completely saturated with the gloss finish. Slightly overlap the previous piece with a new piece of tissue and cover with another layer of Mod Podge®. Repeat this process until the entire jar is covered with tissue paper, making sure not to leave any gaps. While you are waiting for the Mod Podge® to dry, you can cut out a face from the template.
Using the same process as the tissue paper, adhere the face cutouts with Mod Podge® to the jar and add another layer of the finish to the entire jar. (We used printer paper for the template and because it is thicker than tissue paper, we had to Mod Podge® both sides of the paper to make sure it would stick to the layer of tissue paper.)
Once the jar is dry, (it might feel a little sticky) you can make the wire handle. Wrap the wire once around the mouth of the jar, leaving an inch of wire to twist around the longer end, which will be used to make the handle. Bend about 7 inches of wire over the top of the jar, leaving an inch on the other side, past the mouth, and trim the wire. Pull the wire from the handle through the wire that is wrapped around the mouth and twist the remaining inch of wire around the handle to secure in place.
If you plan to use plastic jars, I suggest using a flameless candle to avoid melting the jar. We are using flameless candles in our lanterns so they will last longer!
How awesome! I am so excited to try this! Thanks, ladies, for taking time out of your busy crafting schedules to let me share your project!